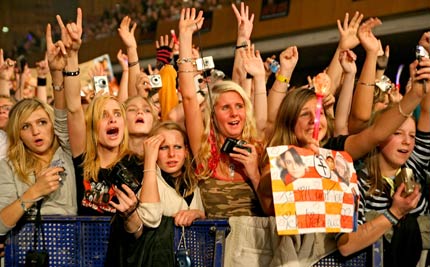 This year I discovered a new band promotion tool that works perfectly for distributing music, video — any content really — and reaching your fan base in a totally new way.  A handful of major artists know about it already (John Mayer, 50 Cent and others) and they're using it to sell CD's online and stream songs, downloads and videos directly to fans through their browser.
Listen up 'cause I'm going to tell you how you can use this very same platform to connect with your fans.  We're talking about a major label distribution technique that instantly connects you to your fans and lets you serve up real-time music and programming to a captive audience.  This is a free service and practically no Indie bands know about it.  Wanna hear the best part?  You get paid.
Wait….what?  Ya, it pays you (every month in fact).
Here's how it works — you create a band toolbar (see mine here) full of your music, videos, Twitter feed, hotlinks to websites and anything else you dream up. It can be built in 5 minutes, or you can go crazy and spend an hour or two. Once you're done, your fans download it for free.
So how do you build it?  First, choose from any of the 100's of cool and customizable music apps out there — like the Bandcamp widget above.  Try it, it works.  Most websites now provide pre-made widgets for you, so it's easy to drop them right in.  All the apps are self-contained in the toolbar, so your fans get easy one-click access to your music, videos and updates.
Are you starting to see the possibilities?  Your band is now front and center on fans' computers with instant links to all your great stuff.  Want to change content?  No problem.  Send a fan alert?  Yes, and it pops right up in their toolbar.  That means you can release a new song through your toolbar and everyone instantly sees it.  No email, no downloads…just click and play!
---
So what's the catch?  You actually have to do it!  I'm going to guide you through the steps and answer any questions you have, but it's up to you to to make it happen.
Conduit is the site where you make your band's toolbar. It's totally free and their platform and product is rock solid.  No adware or spyware to deal with and support is excellent. They partner with Google and it's because of their relationship with big G that you make money. Get a few hundred of your fans on a toolbar and you make a nice chunk of change every month. Sweet.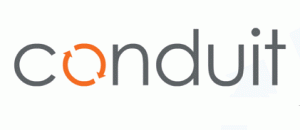 Click here to make your band toolbar
Sign up to my mailing list and I'll send you a quick start guide on how to set things up including:
-What apps you need and where to get them
-How to create your own widgets
-How to make custom toolbar icons
-How to create a direct link to the download file
-How to change the welcome page from Conduit to your page
-How to make money from the apps you install
-And more!
This is a seriously cool tool for any band.  Set yours up now!