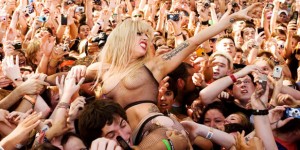 Want Fans?
Your band promo is rolling along now.  You've made your fan page, added some killer apps and your page is looking good — now it's time to get more Facebook fans.
First, invite all your friends and family to "like" your page.  Click the "Build Audience" dropdown at the top of your Fan Page and select "Invite Friends". Check mark all the people you want to invite.  They'll receive an email suggesting they like the page, and once they do, their news feed will say "Chris likes The Killers (musician)".  Have your band members and friends do the same.  You can substantially increase your reach just by asking your friends to invite their friends — the circle of fans increases exponentially on FB but you need to prime the pump.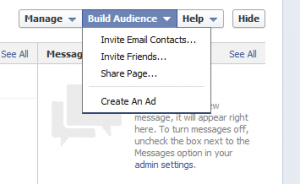 Note: As the owner of a fan page, you can make other people administrators of your page (choose the "Manage" dropdown then select Edit page<Manage Admins option).  That's handy if you want to give your band mates access to the page but you don't want to give them your login info.
You're done, right? Nope, you brought the fans in, now you gotta keep them entertained. Add frequent updates with band news, pictures, videos, new songs, lyrics, whatever. Don't make the mistake of blasting out daily updates then letting your page lie dormant for 6 months. A regular stream of news and promotion is much better — it can be daily if you're on the road or in the studio, otherwise once every week or two is fine.  One of the best methods is to stream a song in your news feed, and ask people to share it. Your music is your best advertisement so spread the word.
Polls are a great way to engage fans and pull in new ones.  Add the Polls app to your page, then access it by clicking on the icon in the left hand column of your fan page.
Make a poll on anything — who's better looking, you or the drummer?  Which of these 3 songs should you cover live?  List 5 possible album titles and have the fans vote on their favorite.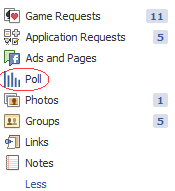 Once someone takes a poll, their results show up in their news feed leading to more viral goodness.
Don't forget to publicize your Fan Page URL outside of Facebook.  Any time you're promoting your band in an email, forum posting, etc. leave your fan page URL so new fans can find you even if you didn't send an invitation.
Next page — advertise on Facebook