Here are some tips on how to set up a killer toolbar (learn more about the band toolbar here).  You could probably figure it out on your own, but I'll share with you tips I've learned from Conduit employees, things I've learned from trial and error, and a few discoveries I've made on my own.
Before you start, install your toolbar on your machine so you can see the changes in real time.  Each time you add functionality, make sure to refresh your toolbar so you can see it (it will happen automatically, refreshing just speeds up the process).  To refresh your toolbar, click the dropdown arrow next to the toolbar icon on the far left side.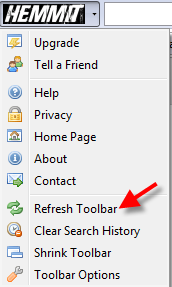 1) Picking a toolbar name
If you've taken the first step in setting up your toolbar, you filled out a signup form.  Conduit doesn't make it clear that your login name is the same as your toolbar name.  For example, if you sign up as "John Smith", your toolbar is named http://johnsmith.ourtoolbar.com.
To change your toolbar name to your band name (or whatever you choose), do this:
1) Log in to Conduit
2) Click "settings"
3) Under the "Community Toolbar" tab, fill out the "Rename your toolbar" section.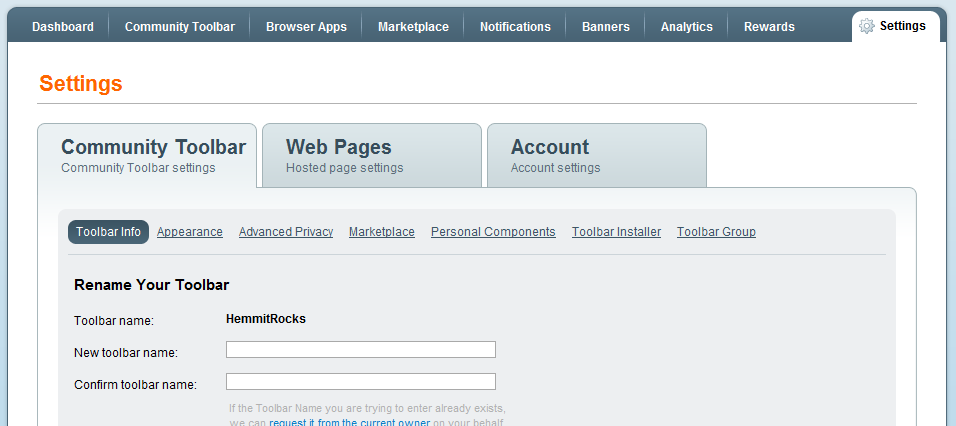 2) Sign up for Rewards
When you sign up for the Rewards program, you get paid every time someone adds your toolbar.  Conduit calculates how often someone is "active" (meaning they're on the Internet), and what country that person is from.  US, Canada and UK pay the most.  Click the "Rewards" tab to get signed up.  Keep in mind that you get paid more per install in the first month after creating your toolbar, so do your heavy marketing as soon as you sign up.
3)  Adding apps to your toolbar
Your toolbar is made up of widgets and apps.  You can choose from 100's of premade apps, or you can create your own.  Here are some tips on what apps to choose, and how to make your own.
Adding premade apps:
1) Click on the "Community Toolbar" tab.  Choose from the list of apps on this page, and click "add" on the ones you want to add to your toolbar.  I recommend adding the Radio Station, Weather, Chat, Facebook and Twitter apps to start.  These apps are proven to make your toolbar 'sticky' (meaning people keep it longer and use it more).  One note — on the Twitter app, it serves up Twitter feeds of whomever you choose.  So if you're a Tweeter, put your name in the list.  Your fans will automatically see your Tweets when they click the Twitter app.
Click the "Marketplace" tab for more apps.  Some of these apps will pay you for adding them (based on an advertising revenue sharing arrangement).  You can find those by clicking the "make money" link under "Categories".
Creating your own apps:
You'll also want to make your own apps to stream songs or videos.  This is where the real power of the Conduit toolbar platform shines, and it's actually pretty easy to do once you know how.
1) Go to the "Community Toolbar" tab.  Add "Your Gadget" under the "Advanced" heading.
2) Add in the link or code of the gadget you're adding.  Let's say you want to add a Bandcamp widget to your toolbar.  The process involves grabbing that widget or gadget code (I use the terms widget and gadget interchangeably) from Bandcamp, then dropping that code into the "your gadget" app you're creating on your toolbar.  After you do that, the Bandcamp widget shows up in your toolbar.  That's very cool, because — as you'll see — the gadgets, when clicked,  fly-out in a mini-window from the toolbar with all your content inside.
Let's walk through the Bandcamp example in more detail:
1) Login to Bandcamp.
2) Click the "Music" link
3) Click the "Share" link and select "Other"
4) Under "Customize Your Player" select the next-to-last option "tall with track list (150 x 450 px)
5) Copy the code in Step 2
6) Head back to Conduit, to the "Create Gadget Button" page (this is the page you get after clicking "Your Gadget" on the "Community Toolbar" page.  Select the "code" radio button, and paste the Bandcamp code in the window, under the line that says "Enter your html below".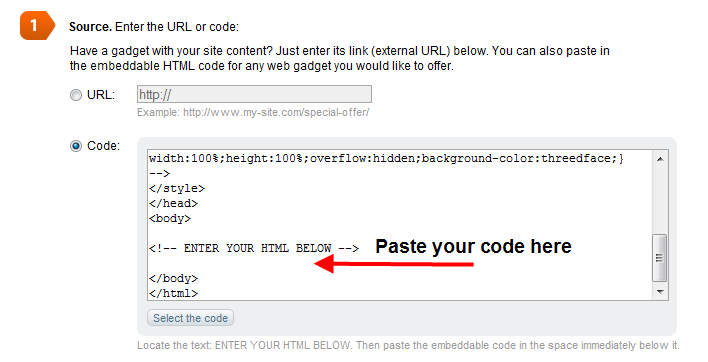 7) Put in the widget dimensions.  You're telling Conduit how big to make the flyout window for your toolbar gadget.  In this case, we know the proper dimensions of the Bandcamp widget because they told us — 150×450 (see step 4).
8) If you want to add your own icon that will show up next to the toolbar widget, upload it in Step 2.  One tip, make your image square (like 30×30, or 40×40) or it will show up strangely in the toolbar.
9) Add a text label if you want (like "New Songs") and a toolbar tip (what they see if they mouse over your gadget).
10) Click save.
Done!  Once you do this a couple of times, it becomes second nature.  You'll also find yourself on the lookout for sites that offer widgets.  Remember, once you have the widget code, you have everything you need to create a new gadget in your toolbar.  Bandcamp has widgets, ReverbNation has widgets (check out the widgets section on their site) — as well as Grooveshark and iLike.  Widgetbox.com also offers a slew of widgets for music, games and lots of other categories.
4) Customize your install/uninstall pages
After a fan installs (or uninstalls) your toolbar, they're sent to a Conduit-sponsored page.  Let's change that.  I suggest sending someone who has just installed your toolbar to your website, or your Facebook Fan page — or to a page where they can sign up to your mailing list.  You choose.
1) Log in to Conduit and click "Settings"
2) Click the "Web Pages" tab
3) Scroll down to "Welcome Page" and "Uninstall Page".  Select the radio button for "external page" and put in your URL.
4) That's it — now fans will see the page you selected each time they install or uninstall your toolbar
5) How to provide a direct link to your toolbar installer
There are 2 ways for fans to install your toolbar.  The first is to send them directly to your toolbar download page (ex. yourbandname.ourtoolbar.com).  The second way is to provide a link that launches the toolbar installer without ever going to the download page.  That's handy if you want to give people the link on your website or Facebook fan page.
Here's how to create a direct link: simply add ".exe" at the end of your toolbar download page URL.  For example, http://hemmitrocks.ourtoolbar.com/exe/ That link launches the toolbar installer, fans accept the install message and the toolbar automatically downloads.  Try it out!
Now you're armed and dangerous.  Go make a killer toolbar and sign up all your fans.  If you have questions or comments, please feel free to email me at bandpromome AT gmail DOT com and I'll do my best to help you out.