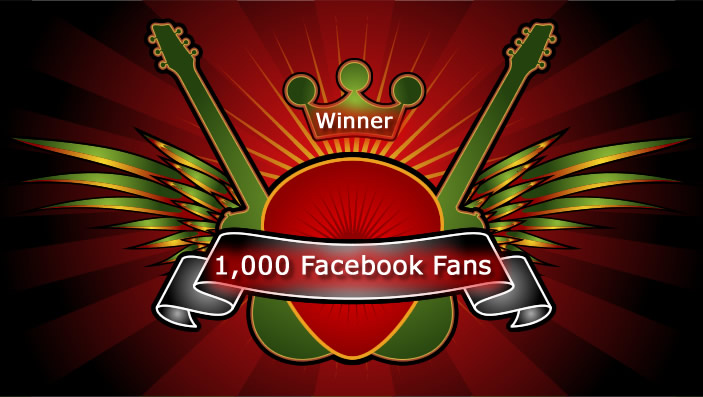 Damn, the promotion ended 12/31/10 — you can still create a band toolbar though….
We're giving away 1,000 Facebook fans
Get a massive marketing push with 1,000 shiny new Facebook fans delivered to your fan page, FREE.
It's easy to enter, here's how:

1) Make your own band toolbar.  Wire it up with your band logo, streaming songs, pictures, Twitter feed, lyrics, tour schedule — whatever you want.  Learn more about the band toolbar here.
Click here to make your band toolbar
2) Add some fans to your toolbar.  It's a free download and they won't get any funky ads or spyware so spread the word!
3) Go to our Contest Entry Page. See the contest rules below for all the details.
That's it!  We'll randomly select one winning band or musician* by Dec. 31, 2010.  The winner gets a free Facebook advertising campaign run by BandPromo.Me.  We'll send 1,000 new fans to your Facebook fan page.  Just tell us your "fan profile" and we do the rest.
---
*Contest Rules:
-To be eligible to win, your band toolbar must have 10 or more fans.
-Contest is available to US, Canadian, UK and Australian residents only.
-Winner must have an active Facebook fan page for a band or artist.
-Winner must be an authorized administrator of the fan page and a member of the winning band or act (no fans please :)
-BandPromo.Me reserves the right to cancel the contest if the total number of entrants is less than 100.
-Winner must make a member of BandPromo.Me an "admin" of their designated fan page for the duration of the advertising campaign (to verify fan count).
-Winner must be available to approve all advertising materials.
-Winner pays no advertising costs.
-BandPromo.Me will pay for and run a targeted Facebook advertising campaign until 1,000 additional fans join the winner's fan page.  If fan page contains 200 fans at the start of the campaign, for example, BandPromo.Me will run advertising until page "likes" reaches 1,200 fans. BandPromo.Me is not responsible for fans leaving the fan page. After 1,000 new fans are added, BandPromo.Me has no additional commitments or obligations.  The end.